Description
Autel MaxiSYS MS909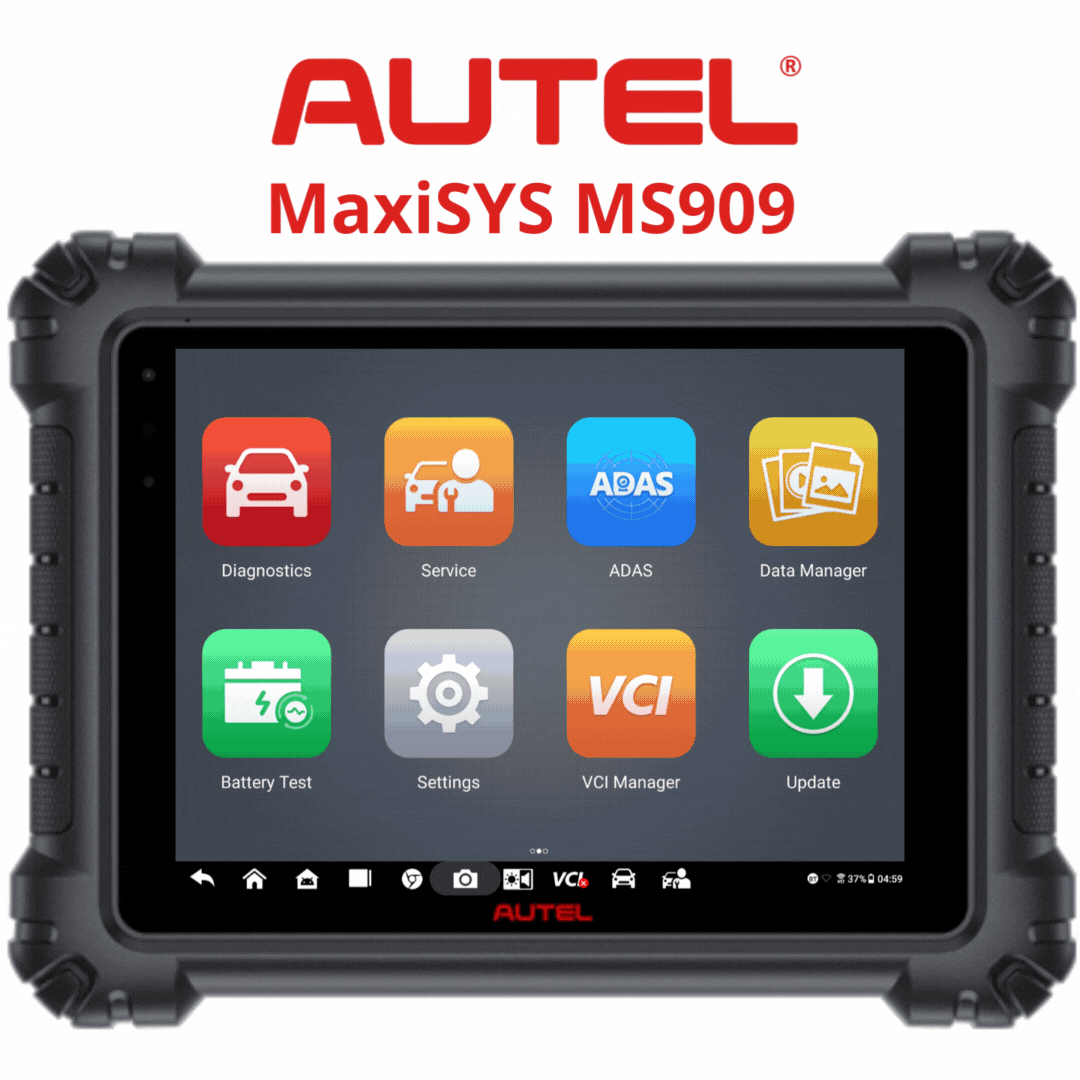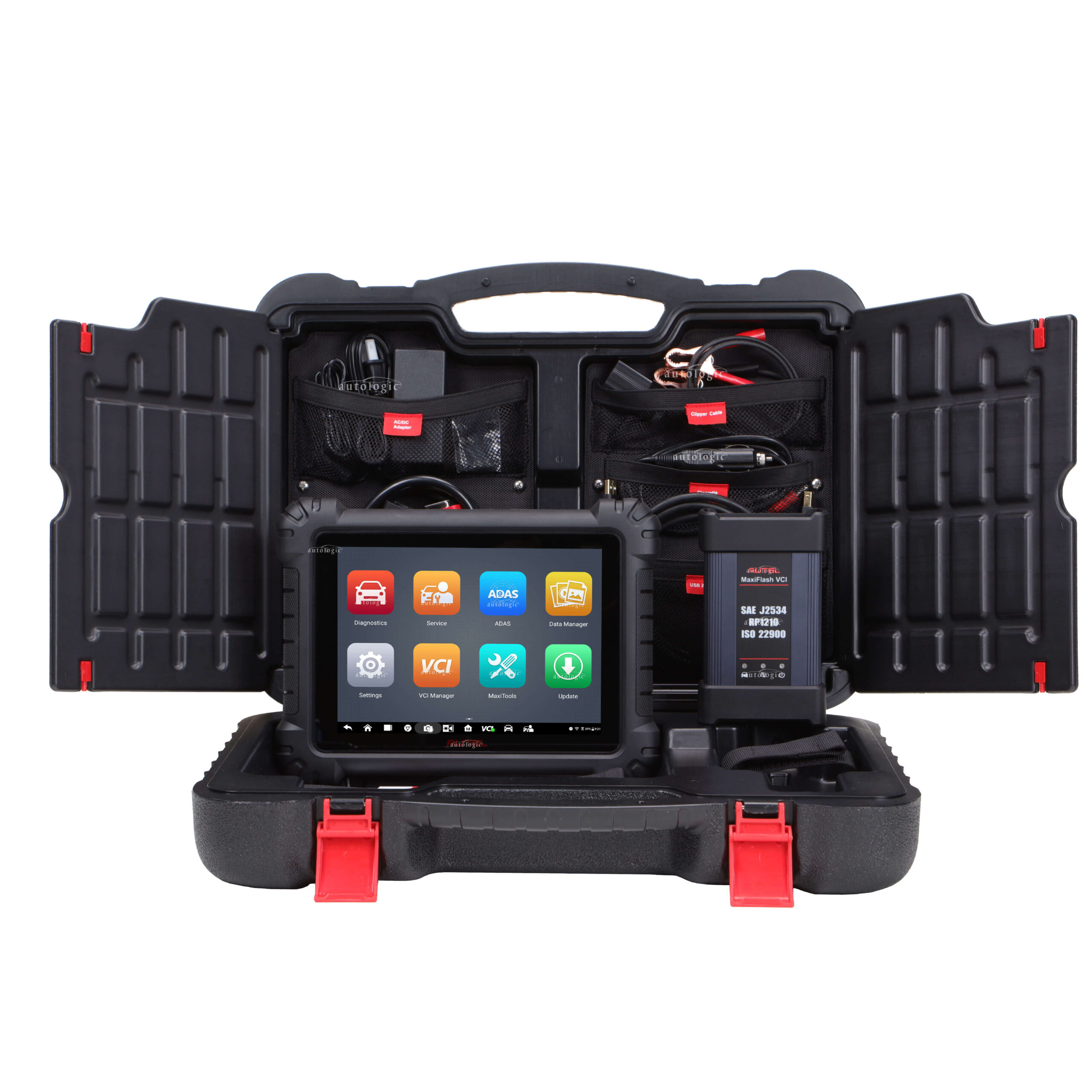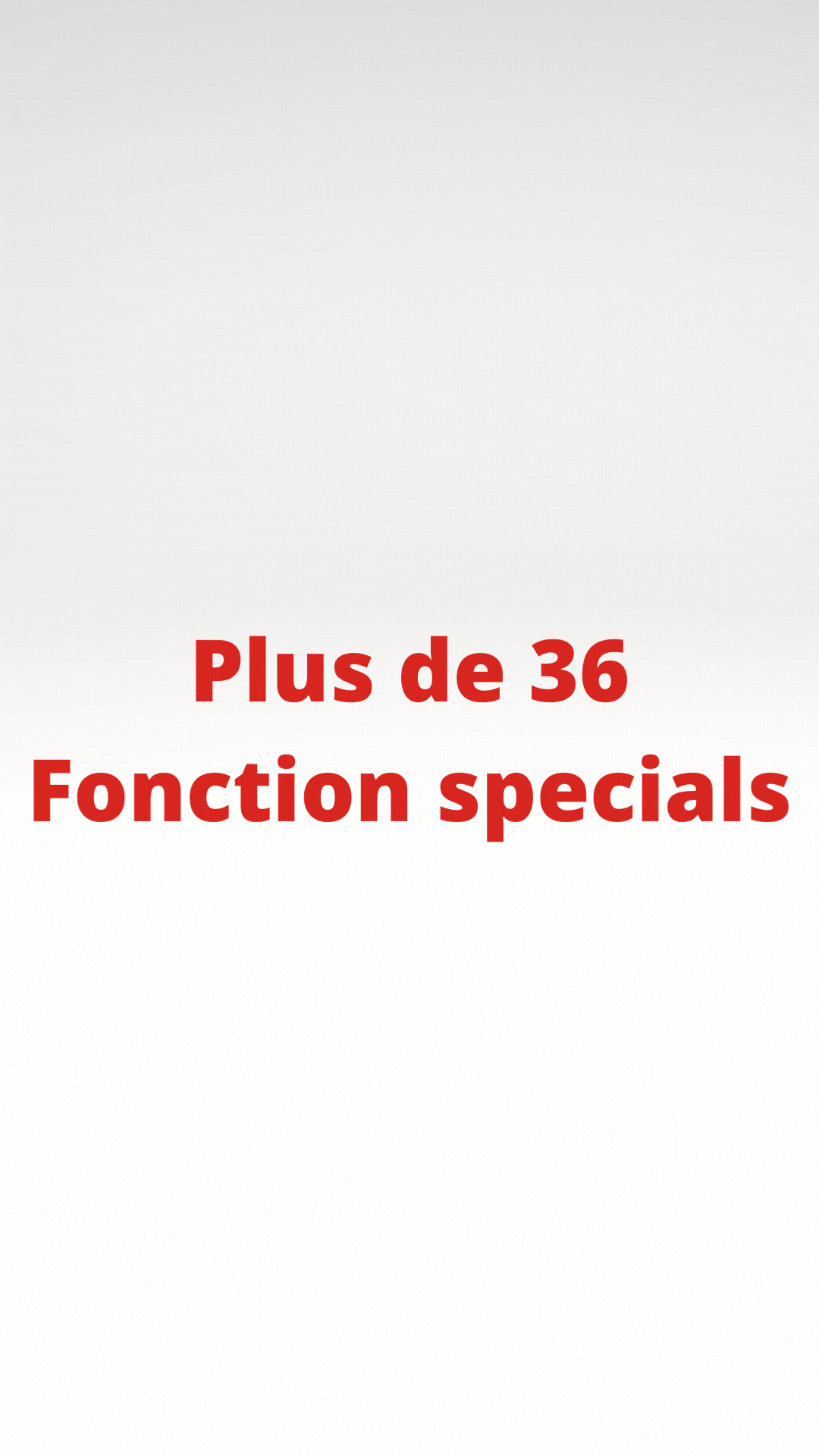 Autel Maxisys MS909 Intelligent Full System Diagnostic Tablet With MaxiFlash VCI
NOTICE: US IP Only. MS909 just can be used in the US. Don't take it to other countries or change the IP.
Autel MaxiSys MS909 is an advanced diagnostic & analysis system based around a tablet and a VCI. It not only displays the relevant repairs gathered from experienced industry experts but also provides step-by-step guidance to ensure the repair is carried correctly and efficiently.
1. One Year Free Update Online
2. Newly Upgraded Autel Brand Tool with Powerful Hardware and Intelligent Software
3. Upgrade of MaxiSys Elite 2, MK908P, MS908S Pro, MS908
4. Worldwide Vehicle Coverage: Support more than 80 US Domestic, Asian and European vehicles, including supercar
5. In terms of intelligent diagnosis, Autel MS909 has the same functions as Autel MS919/Ultra but less cost.
In terms of cost-effectiveness: Autel MS909 > MS919>Autel Ultra
Features
2022 New Added 10+ High-End Functions: Support diagnostic functions for McLaren/ Tesla, Battery Test (need work with BT506), Remote Expert, Endoscope (need work with MV105/MV108), Cloud Report Management, SCAN VIN/License, Pre&Post Scan, Wi-Fi Printing, and ect functions.
Intelligent Diagnostic: Same as MS919/ Ultra. Autel MS909 has all new software specialist capabilities that we have named Repair Assist, DTC Analysis, TSBs, Topology Mapping, and Relevant Cases.
ECU Programming/ ECU Coding: Autel MS909 has the ECU Programming to re-flash the vehicle control modules, which allows you to update the computer software of the vehicle to the latest version, as well as to reprogram adaptive data of certain components after making repairs or replacements.
Bi-Directional Control/Active Tests: This function is used to access vehicle-specific subsystem and component tests. Available tests vary by vehicle.
Worldwide Vehicle Coverage: Autel MS909 comes with J2534 support more protocols such as D-PDU, SAE J2534 & RP1210 to work on newer vehicles.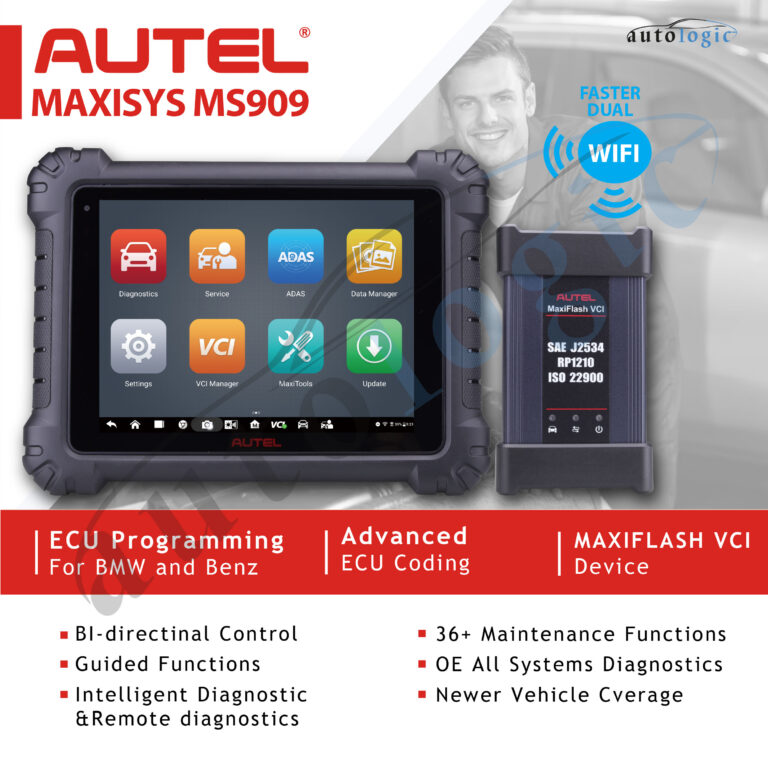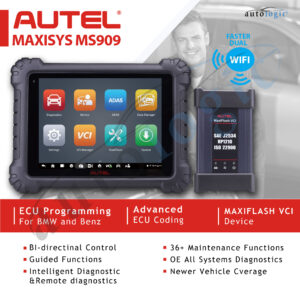 The MaxiSys MS909 features a 10-inch touchscreen tablet with Android 7.0 OS powered by an Octa-core processor (2.3GHz Quad + 1.7GHz Quad), substantial 128GB built-in memory to provide diagnostic guidance and test components to confirm repairs. The MS909 features the new MaxiFlash VCI, a combination VCI and vehicle communication tool providing faster dual Wi-Fi vehicle and network communications. The MS909 features front and rear cameras and a rechargeable Lithium battery providing 8 hours of continuous use to ensure you always have the power to scan.
Intelligent Diagnostic As Autel MS919/MS Ultra
Intelligent Diagnostics is a specific fault code analysis function, with which you can access the most comprehensive and the latest code-specific data, DTC analysis, repair assist, repair tips, and relevant repair cases. It has been drawn from real world shop repair orders and records and with input from experienced industry professionals. Intelligent Diagnostics adopts the scientific data cloud computing technology to match the specific fault code with the exact vehicle model. And the data has been thoroughly verified by automotive maintenance professionals.
Topology Mapping
Makes the Diagnostic Results More Readable &Comprehensive
The systems diagnostics result scanned by the scanner will be displayed in topology module mapping, which shows a system distribution diagram of the vehicle control modules and the relationship between vehicle systems. You can enter any specific system to see more detailed diagnostic information. On the Topology screen, a system with identified faults will display in orange, making the diagnosis results are clear at a glance, which is convenient for mechanics to perform systematic and comprehensive diagnostics and analysis.
Displays the entire system through the Topology Map to glance all the modules with faults, which is easy to locate faults and causes.
Color-coded topology displays all system status in one page
View structure of communication between modules
Makes Supported: for BMW, for Ford, for Volkswagen, for Audi, for GM, for Chrysler, for Nissan, for Honda, for Toyota-Lexus, for Jaguar L-and Rover, for Mercedes-Benz, for Hyundai, for Kia, for V-olvo.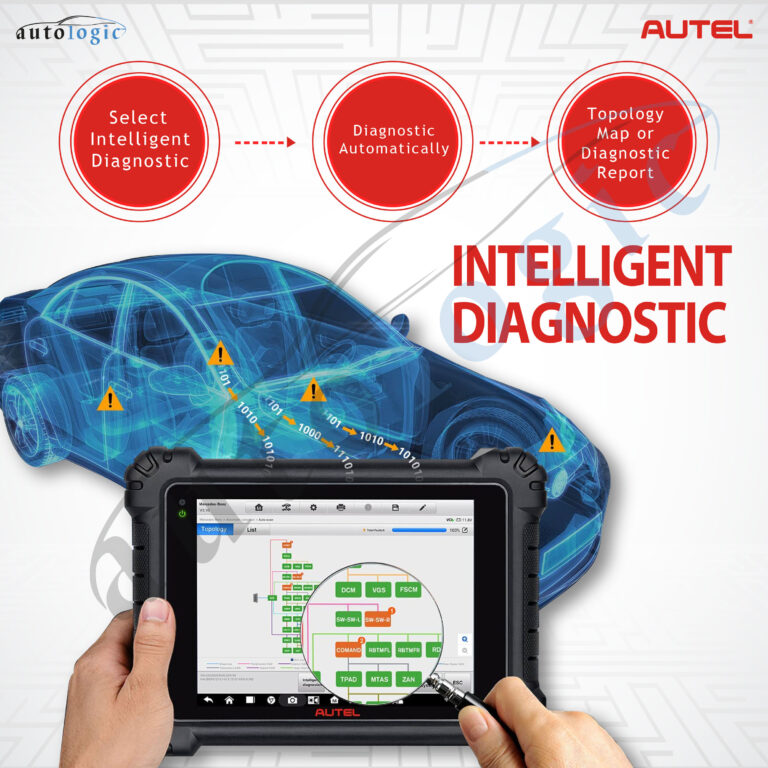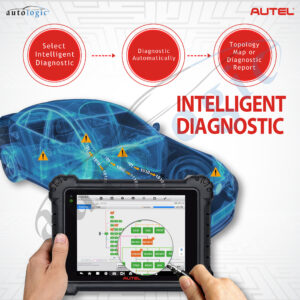 ECU Programming & ECU Coding
ECU Programming: Replace the existing software & firmware in the ECU and program new ECUs. Fix the vehicle drivability, fuel efficiency, power loss, fault codes, and durability issues. Allow you to perform J2534 programming for Benz / for BMW.
Online ECU Programming: For Benz / BMW ONLY
J2534 ECU Programming: For makes and models supporting the J2534 protocol (original manufacturer's programming applications needed).
ECU Coding
Allow you to refresh the hidden features, customize the OE settings and enhance the vehicle performance, fuel efficiency, and reduce power loss. Compatible with for Volkswagen, for BMW, for Seat, for Porsche, for Renault, etc.
Online ECU Coding: Obtain the online data from the server without matching ECU manually and code the car easily via the Internet to solve the car's problems.
30+ Maintenance Functions Take Care of All the Vehicles
MS909 diagnostic scanner can perform Oil Reset, EPB Reset, SAS Calibration, DPF Regeneration, Throttle Matching, Suspension Calibration, Trans Adaptation, ABS Bleeding, BMS Reset, TPMS Reset, Headlamp, IMMO Keys, Seat, Odometer, Lang Change, TEC Learn, A/F Setting, Airbag, Win DR Roof, Battery Replacement, Zero Point Calibration, Weight Sensors Calibration, VGT Turbo Calibration, Injector Coding, Idle Relearn, Power Balance, ECU Coding, VAG Guided Function, etc.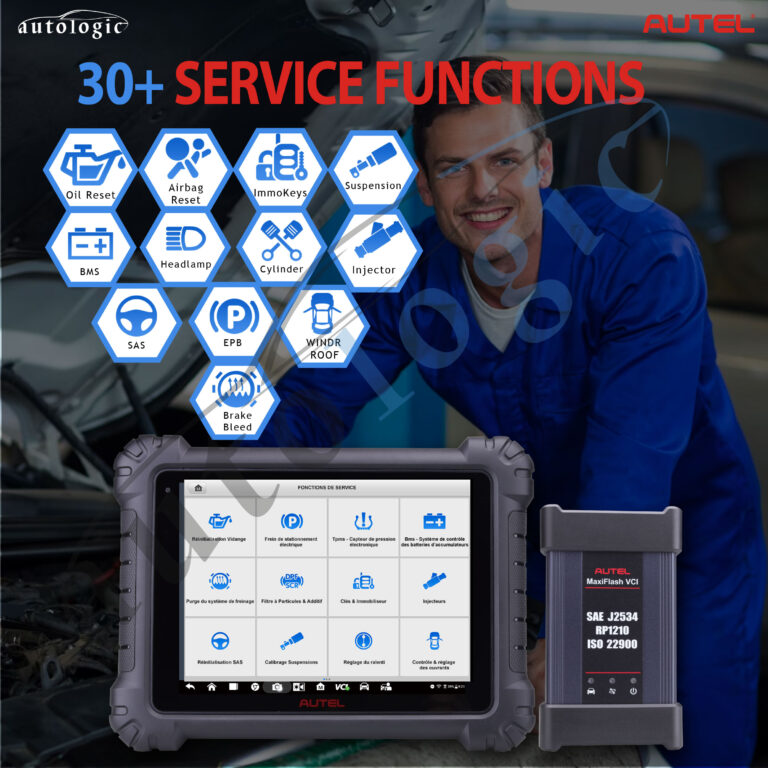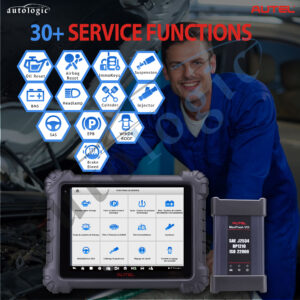 Intelligent Diagnostics – Your Specialist Diagnostic Helper
The Intelligent Diagnostic Functions integrated on Autel scan tool MS909 provide every professional mechanic with massive and substantial information of faults detected and offer you exhaustive and comprehensive repair assistance.
TSB Tech Services Bulletins – see official announcements issued by vehicle manufacturers regarding common problems including vehicle modules, DTCs, repair methods, program updates, and recall strategies.
DTC Analysis – contain repair assistance and information related to the fault codes, including the fault description, condition, fault influence, possible cause, and possible solution. The repair assistance information varies vehicle.
Repair Assistant – display a list of recommended tests, the completion status, and priority for the undertaking. The higher the priority, the earlier the components should be tested. There are a location diagram and wiring diagram to help you to locate the components, connectors, wiring, and ground electrodes.
Repair Tips – display a range of diagnostic and repair steps, including the information needed in order to clear the faults. The repair steps are provided in text and video.
Component Measurement – direct technicians to an oscilloscope in one click. This section may include relevant waveforms and waveform analysis to aid the technician in diagnostics and repairs.
Relevant Cases – recommend repair processes that may be relevant to the vehicle and fault. These repair cases/suggestions provide the technician with great insight when diagnosing and repairing vehicle faults.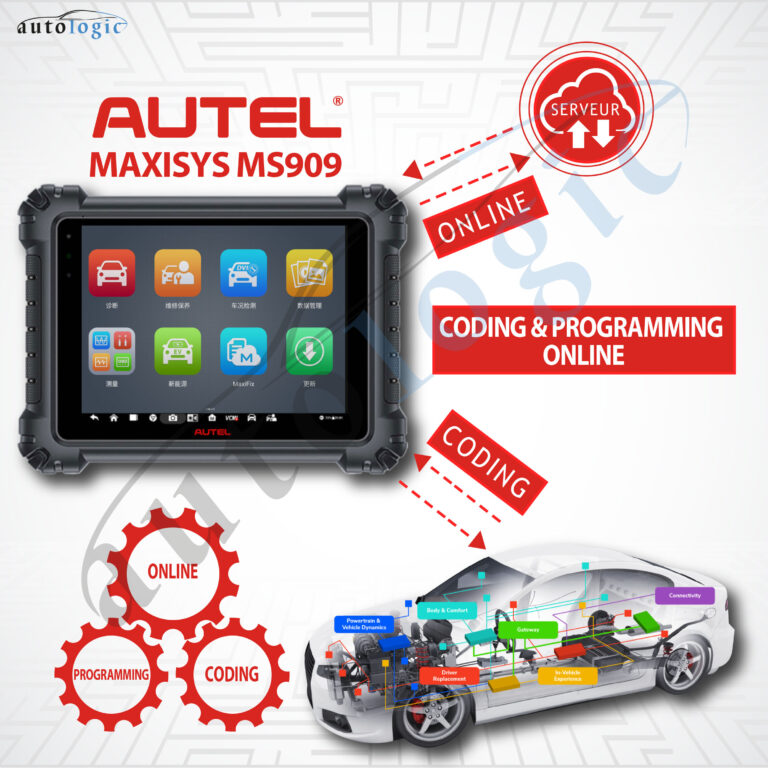 Boost Work Efficiency
Intelligent Autel Scanner MaxiSys MS909 comes with upgraded MaxiFlash VCI, with which specially designed features to make your work easy and fast.
Dual WIFI: Fastest and stable wireless data communication between MS909 diagnostic tablet and your vehicle, speed up to 164 feet/50m, increases by 30% compared to its precedents. Other WIFI is for connecting your MS909 scanner to Internet for update the latest software anytime.
Operation Navigation: Autel MS909 auto scan tool features with operation navigation, just like your computer, you can always know which steps are you in, what module are you checking on and quickly for better diagnostic guidance.
Pre-Scan and Post-Scan function, a truly practical function for car workshops:
Step 1. Auto SCAN the Vehicle: the Auto VID function can automatically identify the vehicle and all equipped systems, codes and code details will be listed.
Step 2. Print Pre-SCAN Report with customized with shop and vehicle information.
Step 3. Repair Vehicle: creates efficient repair plan from the start.
Step 4. Auto SCAN Repaired Vehicle: ensures no new faults were created during repair and no DTCs are present at completion.
Step 5. Print Post-SCAN Report: proves all DTCs on Pre-SCAN report are fixed.
MaxiFlash VCI
This device is featured by Autel scanner MS909 a combination VCI and vehicle communication tool providing faster dual Wi-Fi vehicle and network communications. It is a D-PDU, SAE J2534 & RP1210 compliant PassThru programming interface device. It supports BT, WIFI and USB communication. The data can be transmitted both with or without a cable connection.
Supported to D-PDU/J2534/RP1210 OE-Diagnostic Protocols: work with OE factory softwares for ECU Programming and coding
Supported to CAN FD/ DoIP Protocols: work perfectly for GM vehicles produced after 2020, and for BMW F G Chassis models, for Jaguar & Land Rover after 2017, for Volvo after 2018.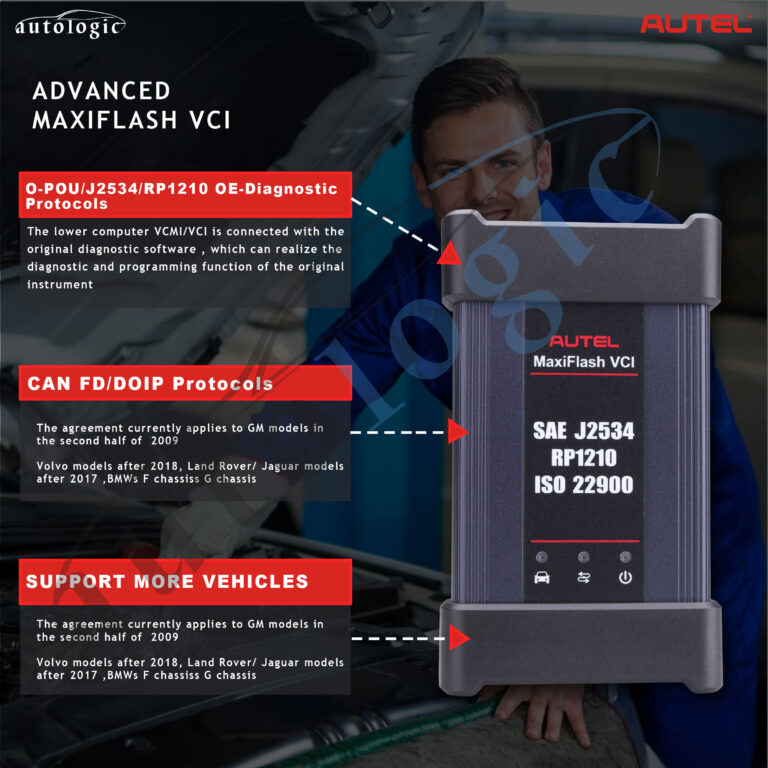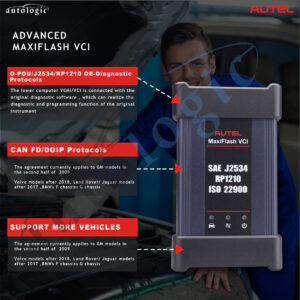 Specifications
Operating System
Android 7.0
Processor
Samsung Exynos 8895V octa-core Processor (2.3GHz Quad-core Mongoose + 1.7GHz Quad-core A53)
Memory
4GB RAM & 128GB On-board Memory
Display
9.7-inch TFT-LCD with 1536 x 2048 resolution & capacitive touch screen
Connectivity
WiFix2 (802.11 a/b/g/n/ac 2×2 MIMO)
BT v.2.1 + EDR
GPS
USB 2.0 (TWO USB HOST Type A, ONE USB mini device)
HDMI 2.0
SD Card (Support up to 256GB)
Camera
Rear: 16 Megapixel, Autofocus with Flashlight
Front: 5.0 Megapixel
Sensors
Gravity Accelerometer, Ambient Light Sensor (ALS)
Audio Input/Output
Microphone
Dual Speakers
3-Band 3.5 mm stereo/standard headset jac
Power and Battery
15000mAH 3.8V lithium-polymer battery
Charging via 12V AC/DC power supply with the temperature between 0°C and 45°C
Input Voltage
12V/3A Adapter
Operating Temperature
0 to 50°C (32 to 122°F)
Storage Temperature
-20 to 60°C (-4 to 140°F)
Dimensions(W x H x D)
304.4 mm (11.98″) x 227.8 mm (8.97″) x 42.5 mm (1.67″)
Weight
1.66kg (3.66 lb.)
Protocols

DoIP, PLC J2497, ISO-15765, SAE-J1939, ISO-14229 UDS, SAE-J2411 Single Wire Can(GMLAN), ISO-11898-2, ISO-11898-3, SAE-J2819 (TP20), TP16, ISO-9141, ISO-14230, SAE-J2610 (for Chrysler SCI), UART Echo Byte, SAE-J2809 (for Honda Diag-H), SAE-J2740 (GM ALDL), SAE-J1567 (CCD BUS), for Ford UBP, for Nissan DDL UART with Clock, for BMW DS2, for BMW DS1, SAE J2819 (VAG KW81), KW82, SAE J1708, SAE-J1850 PWM (for Ford SCP), SAE-J1850 VPW (for GM Class2)
Package includes:
1pc x Maxisys MS909
1pc x MaxiFlash VCI
1pc x Main Cable V2.0
1pc x USB 2.0 Cable V2
1pc x AC/DC Adapter(12V)
1pc x Cigarette Lighter
1pc x Light Fuse 6x30mm 2 PCS
1pc x Clipper Cable
1pc x Quick Reference Guide
1pc x Packing List
1pc x Soft Cloth
1pc x Carrying Case
Autologic Sarl The Official Distributor In Morocco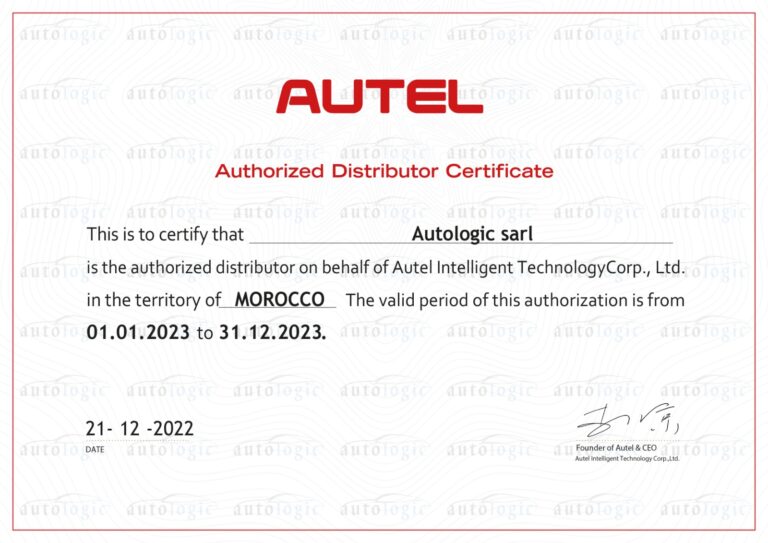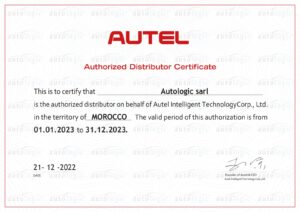 —————————
Visit us at our Store location
we offer training courses about Keys Programming please check the link